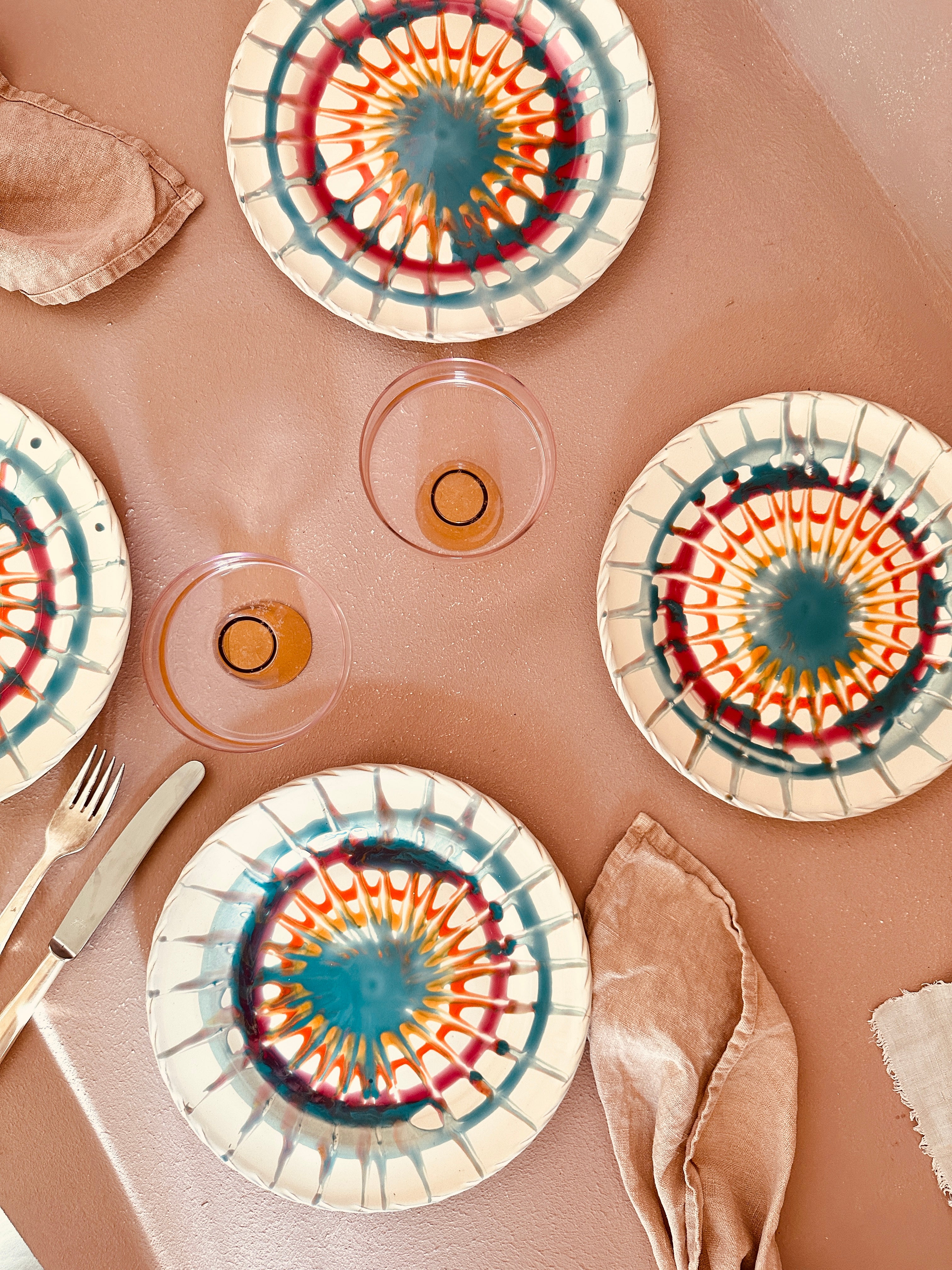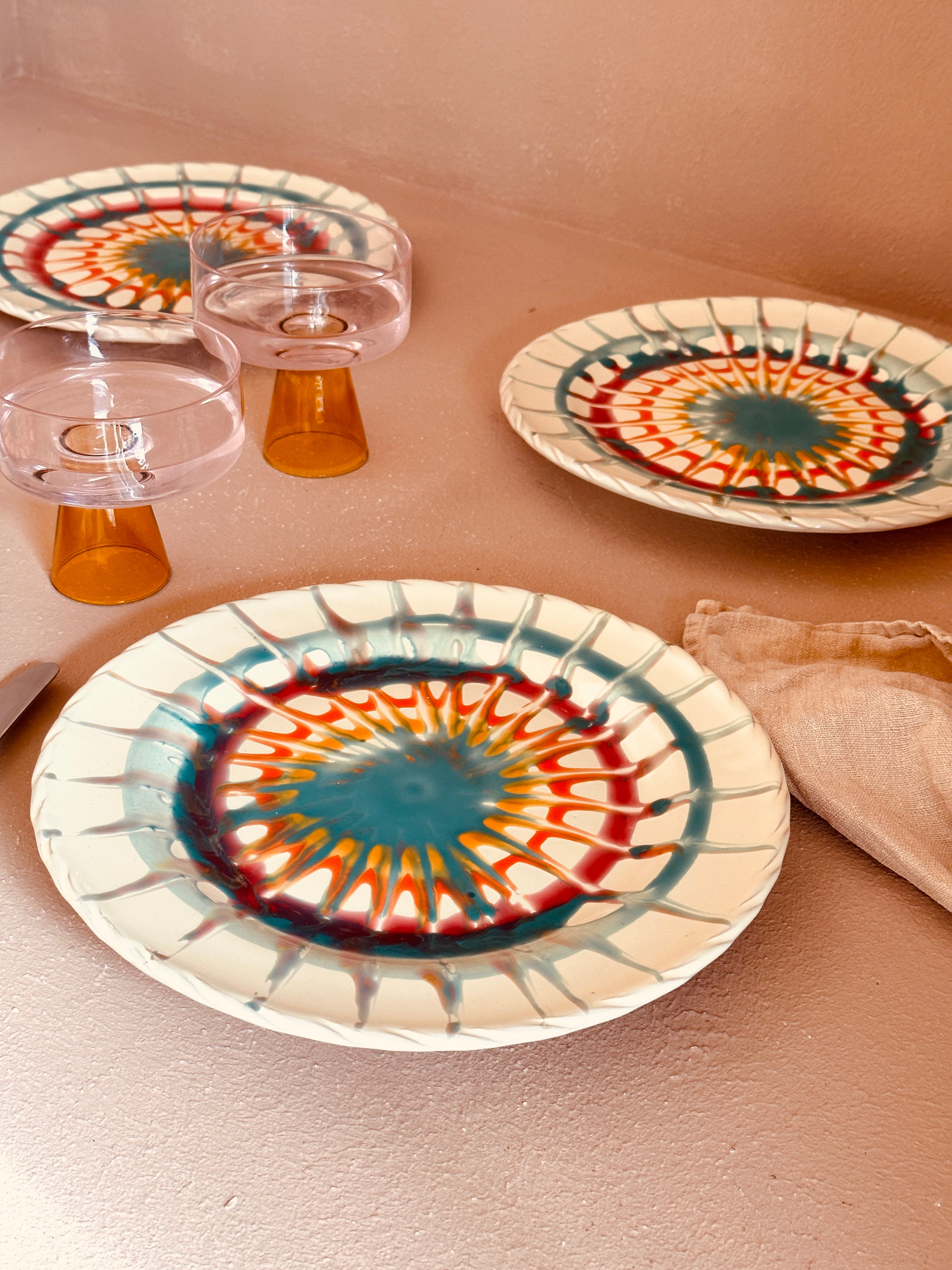 Psychodelic Dinner Plate Set of 4 "Classic Mix"
Sale price

€198,00
Regular price

€224,00
(/)
Tax included.
---
This unique set is crafted with love and tradition in Puglia. All of Studio Riviera's products are made from generations-old ceramic techniques.
The colorful dinner plates are sure to become your favorite: an eye-catching piece on an ornate table or a solitary kitchen shelf, where they look beautiful even without anything to display.
Each plate is hand-crafted with 8 stages of firing up to 1000 degrees for 36 hours. The raw material, the clay, hails from Tuscany.
Allow yourself to mix and match different pieces of our collection to create your own Studio Riviera signature look -there's no wrong way to do it.
 4 x div Psychodelic Dinner Plates  25cm x 2cm
Durability

Dishwasher safe
Oven safe (up to 200°C)
Microwave safe
Resistant to scratches

After first being kissed by the Italian sun, the product undergoes an initial firing process of 36 hours at over 1000°C. Then the base glaze is applied by hand and the product is fired again for 36 hours at 1000°C. Finally, the piece is hand painted by our artist and undergoes a third firing process. These elaborate firing processes make this item highly robust and durable and distinguishes it from ordinary ceramics.
One of a Kind

Same. Same. But different. Each ceramic - Piece is handmade and hand-painted and therefore not always exactly identical to the depicted motif. Slight variations in color and artwork are the special and a quality feature of our collection.
Origin

Puglia, Italy.

Our tableware is created in a small, charming studio in the south of Italy. Produced by a family, who passed the pottery craft down from generation to generation. Until this day the pottery is made by hand using traditional manufacturing methods.
---
Choose options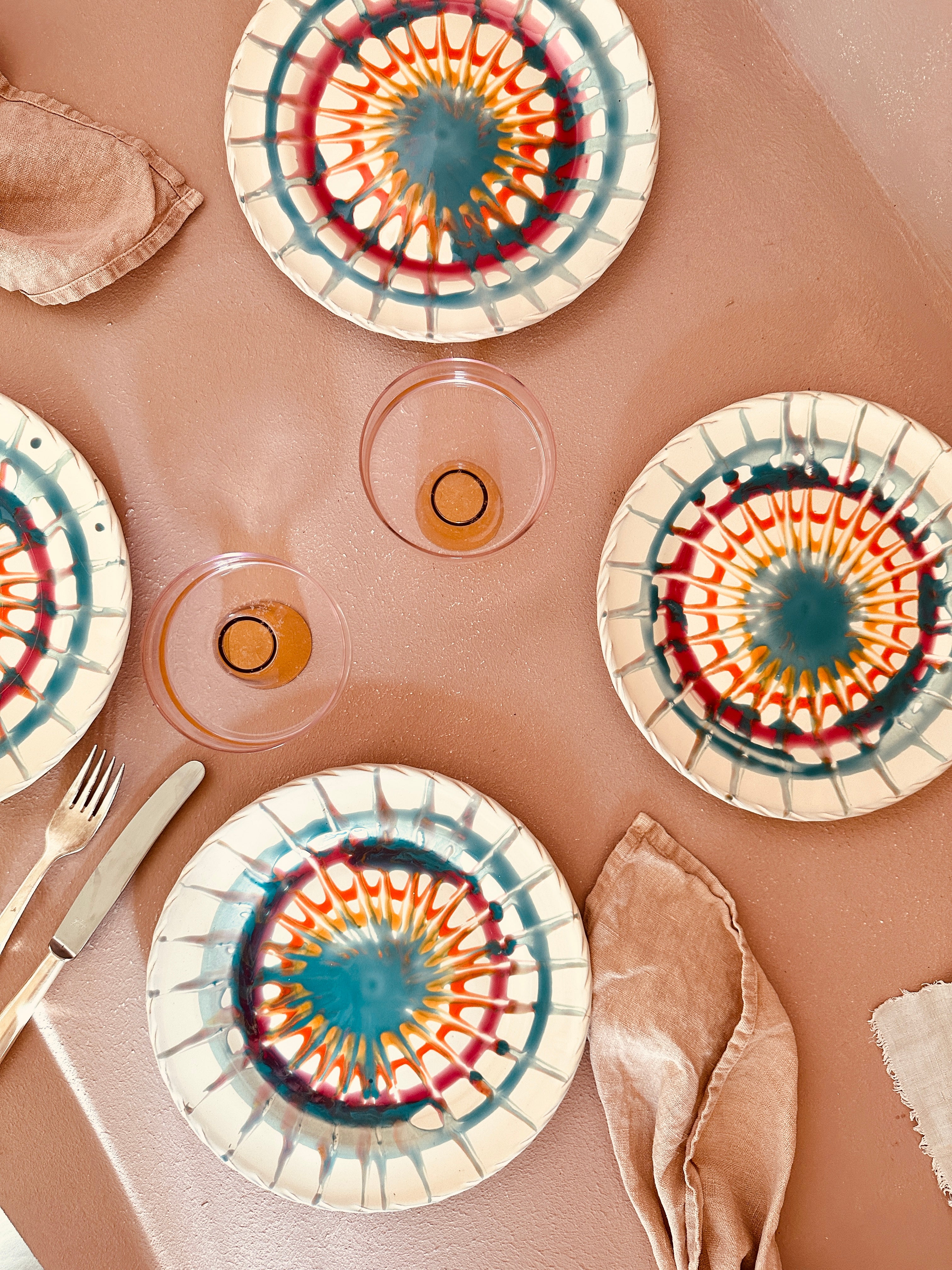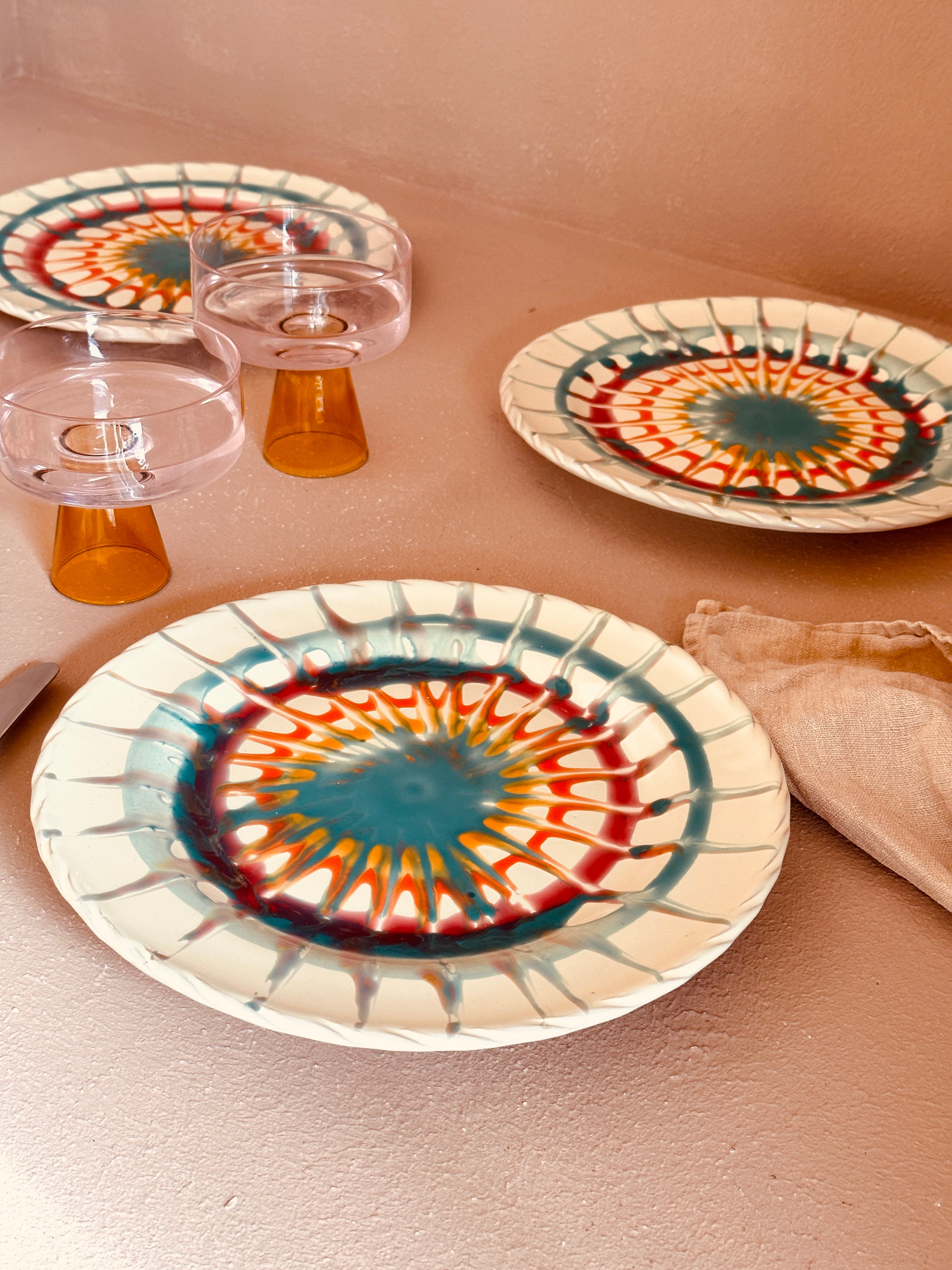 Sale price

€198,00
Regular price

€224,00
(/)
Tax included.
---
---
View details
The Atelier
Our unique ceramic tableware is created in a small, charming studio in the south of Italy. With great dedication and passion, each piece of our collection is handmade here according to traditional pottery art. In this traditional family business, the pottery craft has been passed down from generation to generation.

Handcrafted
With the deep passion for pottery, we imbue each piece of our collection with meticulous attention to detail and skillful craftsmanship. We uses only the finest clay materials and employs traditional techniques to create authentic
and high-quality ceramics.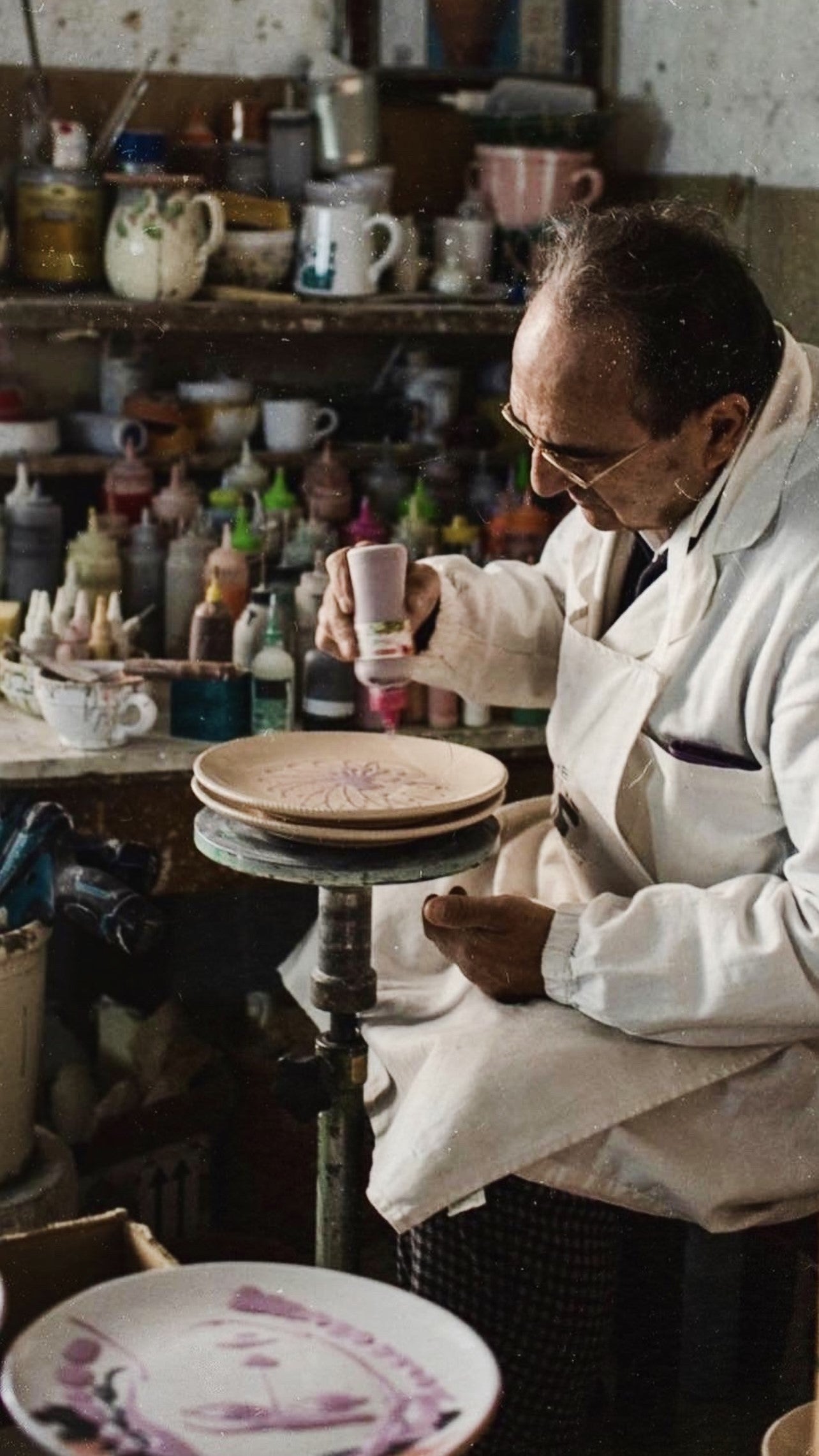 Handpainted
This is Nicola Fasano within his charming atelier in Bella Italia hand-painting one of our plates. All the unique patterns and joyful artworks of our pieces are exclusively created for STUDiO RiViERA.
love & passion
The atmosphere in the atelier where our ceramics are created is an incredibly inspiring place for us. The tranquillity and passion that permeate the space are contagious.